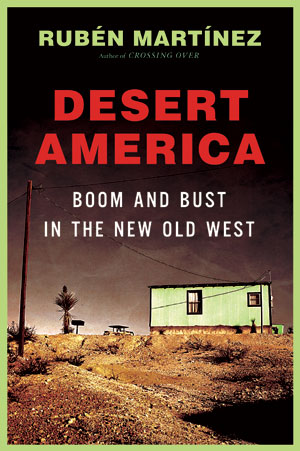 A brilliantly illuminating portrait of the twenty-first-century West—a book as vast, diverse, and unexpected as the land and the people, from one of our foremost chroniclers of migration
The economic boom—and the devastation left in its wake—has been writ nowhere as large as on the West, the most iconic of American landscapes. Over the last decade the West has undergone a political and demographic upheaval comparable only to the opening of the frontier. Now, in Desert America, a work of powerful reportage and memoir, Rubén Martínez, acclaimed author of Crossing Over, evokes a new world of extremes: outrageous wealth and devastating poverty, sublime beauty and ecological ruin.
In northern New Mexico, an epidemic of drug addiction flourishes in the shadow of some of the country's richest zip codes; in Joshua Tree, California, gentrification displaces people and history. In Marfa, Texas, an exclusive enclave triggers a race war near the banks of the Rio Grande. And on the Tohono O'odham reservation, Native Americans hunt down Mexican migrants crossing the most desolate stretch of the border.
With each desert story, Martínez explores his own encounter with the West and his love for this most contested region. In the process, he reveals that the great frontier is now a harbinger of the vast disparities that are redefining the very idea of America.
Read parts of the book online
Over the next several weeks I'll be posting installments from a chapter in DESERT AMERICA — to be published August 7 — at KCET.org's Artbound website. "House of the Moon" is set in Joshua Tree and tells the origins of the thriving art colony there. DESERT AMERICA is the result of over ten years of living and traveling through the Southwest and borderlands — a period during which both great wealth and ruinous poverty transformed the most iconic of American landscapes.
Reviews & Interviews
Praise for Desert America
"Martínez offers reportage beyond the simple binaries of the immigration issue or the drug war. He delivers a lively, compassionate intervention into our collective conception of the Southwest… This thoughtful and well-written account intimately explores the convolutions of racism and class conflict that have come to define a divided America."
—Publishers Weekly