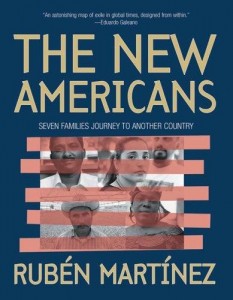 The absorbing globe-spanning journeys of five immigrant families, chronicled by an award-winning journalist.
In The New Americans, a companion book to the highly-anticipated PBS miniseries from the award-winning producers and director of Hoop Dreams, Emmy Award-winning journalist Rubén Martínez recounts the dramatic voyages of five new immigrant families, from home country to arrival and settlement in the United States. The detailed portraits—woven together in the miniseries to present a kaleidoscopic picture of immigrant movement—present a personal view of the new America: we follow an Indian couple to Silicon Valley, a Mexican family to a meatpacking plant in Kansas; a family of Nigerian refugees, including the sister of slain Ogoni activist Ken Saro-Wiwa; two LA Dodgers prospects from the Dominican Republic; and a pair of Palestinian newlyweds carving out a life in Chicago.
The book also provides context for fans of the television series, with stunning original photographs from award-winning photojournalist Joseph Rodríguez. The New Americans is at once the most personal and accessible introduction to the experience of a new generation of immigrants, and a beautifully written meditation on the ways newcomers are transforming America, socially, economically, and culturally.